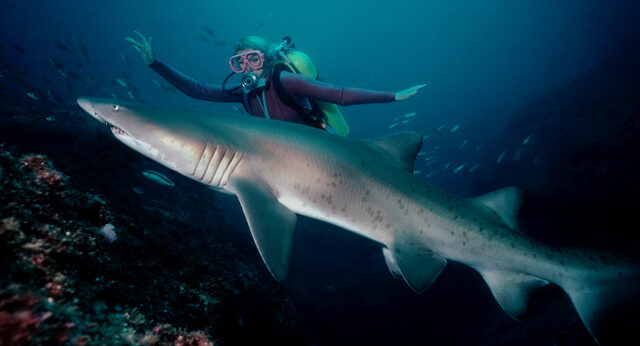 "The ocean is the mother of all life on earth. It is imperative we start caring for our oceans before they are, by our own carelessness, damaged beyond repair.
We need to maintain the integrity of the ocean and the life it supports. This award is a small but important step towards protecting the health of over 69% of our planet.
I sincerely thank everyone who applied for the prize and who work to conserve the well being of our oceans. In doing so you are helping to protect all life on earth now and into the future.
Valerie Taylor AM, Knight of the Order of the Golden Ark.
Inspiring wonder and support for our ocean
The 2022 inaugural prize currently was established by Blue World to honour the achievements of ground-breaking conservationist and marine advocate, Valerie Taylor, throughout the UN Decade of Ocean Science for Sustainable Development.
2022 Valerie Taylor Ocean Protection Prize Winners
Our inaugural major prize was awarded to Jason Iggleden, of DroneShark
The prize will allow Jason to upgrade his equipment and continue to grow the reach of DroneShark. Jason's work has been instrumental in changing perceptions about sharks in Sydney waters and creates intrigue and wonder with human and marine interaction. He also contributes data to scientists such as Vanessa Pirrotti, and shares information with the local life guards. He plans to develop the DroneShark platforms in order to connect with young people in different ways.
'Together with my 800, 000 followers we've watched Great White Sharks enter Bondi waters; watched whales and dolphins swim with people, bait balls morph into heart shapes. We've seen random creatures such as a leatherback turtle, Sunny the sunfish and a leopard shark cruise by, and when we are lucky, all the gang on the screen together co-existing and dancing in the ocean.' Jason Iggleden
City East Prize awarded to Miriam Lieberman for Love Letters to the Ocean.
Miriam is an award-winning musician who is developing an ocean literacy project that aims to foster a sense of personal connection, love, wonder and protection of the ocean in young children. This project will include workshops in selected local early childhood education centres and primary schools and will culminate in a Performance and Display at The Volvo Ocean Lovers Festival in March 2023.
'Engaging and empowering the younger generation to treat our oceans with respect and care has never been so vital.' Miriam Lieberman, July 2022
City East Prize awarded to Joseph DiBattista of the Australian Museum
The project will use the power of DNA and citizen scientists, and work to restore habitat for our beloved White's Seahorse in southern Sydney Harbour. The prize will be used to to build 'seahorse hotels' – small sanctuaries, where the sea horses can thrive in the wild.
'Valerie Taylor is an inspiration in the marine conservation space and so I am honoured to be a recipient of this prize. I have hit the ground running as I started the monthly seawater sampling to detect the shed DNA of all the critters that live at two of our study sites in southern Sydney Harbour today!'
Joseph Di Battista, 18 August 2022
Valerie Taylor Prize for the Volvo Ocean Lovers Litterarty School Waste Art Competition
Blue World is also proud to sponsor the Volvo Ocean Lovers Festival Litterarty School Waste Art Competition. Prizes were awarded for artworks/projects that have involved the students in ocean literacy concepts. It is hoped the prize money will catalyze school projects with an ocean literacy or sustainability focus.
More information about the Litterarty School Waste Competition