Blue World was founded in 2021. Since that time we have supported organisations and individuals across NSW, Australia, to achieve ocean literacy and conservation goals for our ocean.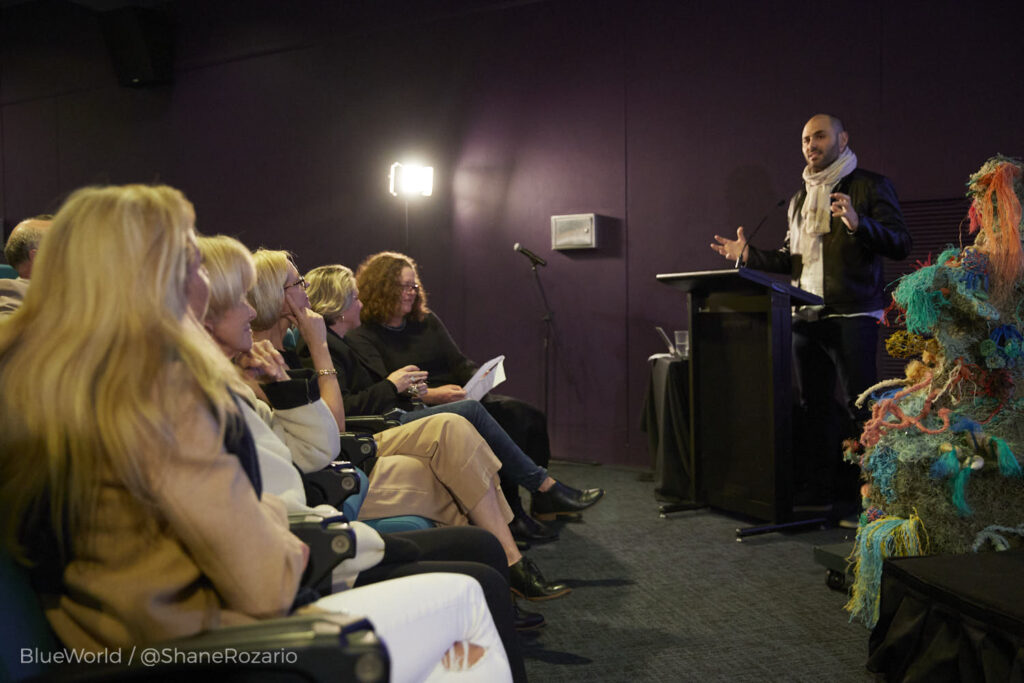 Blue World is thrilled to support the Australian Marine Conservation Society.Through the Valerie Taylor Art Prize, we raised more than $40,000 which was donated to the AMCS.
Orrca Cetacean Rescue and Rehabilitation Equipment Upgrade Project
Orrca are the only volunteer wildlife rehabilitation group in NSW, licensed to work with whales, dolphins, seals and dugongs. They have over 500 trained rescue members along the entire NSW coast available to attend marine mammal incidents. Blue World funds will be used to improve and purchase additional rescue equipment.
5 Bioluminescence Project at Tathra Wharf
Blue World will assist in the development of the Under the Wharf Video Monitor Set up Bioluminescence Project, which highlights the natural biodiversity of the life, by live streaming video from under the Tathra Wharf. The Project includes three-day workshop with local young people from Tathra culminating in a community event to celebrate the reopening of the wharf while highlighting the local underwater biodiversity.
6 Hunter Community Environment Centre
Blue World will support an "Offshore Wind Comunity Reference group", a proposed vehicle for vital community participation in the planning process underway for the Hunter-Central Coast Offshore Wind zone, part of the Hunter Renewable Energy Zone. And to put a fierce, friendly and inspiring feathered face to the future of offshore wind.
7 Southern Sydney Harbour Research and Engagement
Blue World is thrilled to support Dr Joseph DiBattista's ongoing research includes further e-dna sampling in the harbour, and educational and community engagement events.
So Shire Marine Biodiversity of Southern Sydney Project
Blue World is thrilled to support complete e-dna surveys at Boat Harbour and at other local sites, to gather data and support for potential marine reserves; The surveys will also be used as the basis of engagement activities.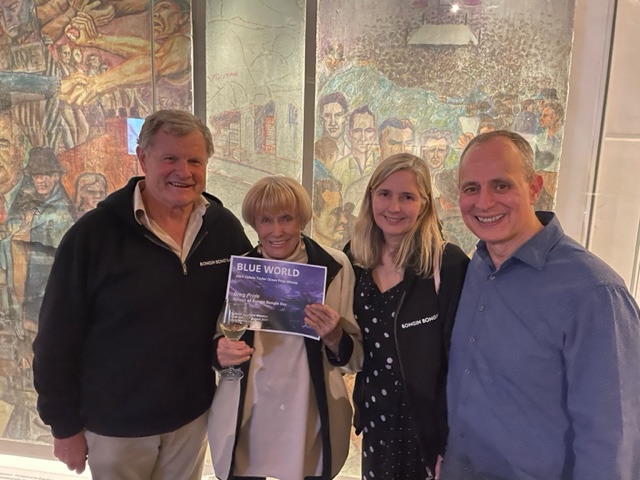 9 Friends of Bongin Bongin Bay
Blue World is thrilled to support The Friends of Bongin Bongin Bay, who are are seeking to establish Bongin Bongin Bay at Mona Vale as a 'no-take' aquatic reserve. Funds will assist in ongoing costs, such as publicity, future community events and legal advice, and building morale.They have some awesome merchandise I recommend a look on their website.
Nature Coast Marine Group Nature Coast Marine Monthly Tidie Cleanups
Blue World is thrilled to support NCMG. The group are establishing an ongoing monthly waterways and ocean clean-up, to be held across the Eurobodalla shire to weigh and log this data to gain a better understanding of where waste is entering our oceans from. Our aim is to engage the community in education around this issue and encourage them to take an active role in addressing this problem.
Prof David Booth, UTS How many weedy seadragons are there in Sydney?
The project seeks to engage citizen scientists (dive clubs, beach walkers) to develop the first ever "seadragon census" across the Sydney region to assess the overall abidance and key hotspots for this globally-iconic fish.
Duncan Heuer GNS Harmonisation Census website
Blue World is thrilled to support Duncan Heuer create and maintain the GNS Harmonisation Census website and Facebook page. The census will leverage the dive clubs, commercial dive shops and individual contributors to participate in regular grey nurse shark censuses and demonstrate the need to create marine parks around their known aggregation sites. Grey Nurse Sharks are critically endangered and we seek to gather data to ensure the survival of the species.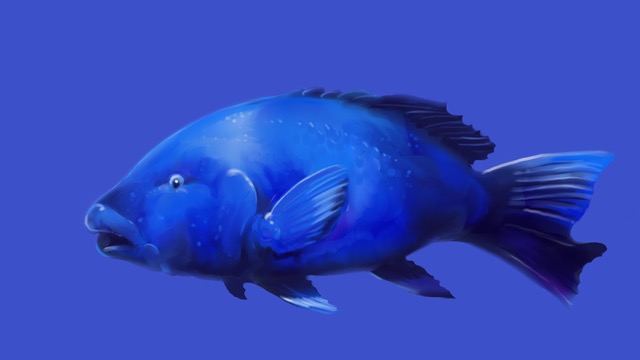 13 Eric Lobbeke Work in Progress; a creative visual documentation
Blue World is thrilled to support Lobbecke. Lobbecke is an artist and he will creatively document science presentations at the Ocean Lover Festival. Lobbecke produces brilliant animations that can be used on web/ social media to get to the core of issues.
Blue World are keen to support this grass roots campaign: A major project is underway to install a raw sewage pumping station at Parsley Bay. Funds will be used to organise an Aboriginal heritage report for both land and sea country to help ascertain if Parsley Bay is the most appropriate site for this development.
15 Dr Sarah Jane Moore Sydney Rock Oyster Performances
Blue World is thrilled to support the work of Dr Sarah Jane Moore. She has shared songs about the Sydney Rock Oyster and her performance will ponder their cultural significances. Her work includes gathering, discussing climate change, lost ecologies and the cultural and social importance of saving species. Performed with Michael Galeazzi.