The inaugural prizes were launched at the Australian National Maritime Museum, at the Blue Solutions Summit event, by Anita Kolni, of the Volvo Ocean Lovers' Festival. Valerie Taylor attended the gala event and supported the launch. This was followed by a showing of the new documentary, Playing with Sharks, directed by Sally Aitken, which can currently be streamed on Disney Plus.
10 March 2022
Inaugural Valerie Taylor Ocean Protection Prize Finalists
17 July 2022
Congratulations to the following applicants shortlisted for the 2022 prize. The quality of the applications made the judging very difficult. We hope to see these applicants apply in the future.
David Booth, Joseph DiBattista, Yamila Gurovich & Jennifer Mather, Jason Iggledon, Miriam Lieberman, Eric Lobbecke, Sarah-Jo Lobwein, Catalina Musrri, Madelaine Langley, Amanda Pettersen, Jennifer Turpin, Tom Wilson.
2022 Valerie Taylor Ocean Protection Prize Winners
Our inaugural major prize was awarded to Jason Iggleden, of DroneShark
The prize will allow Jason to upgrade his equipment and continue to grow the reach of DroneShark. Jason's work has been instrumental in changing perceptions about sharks in Sydney waters and creates intrigue and wonder with human and marine interaction. He also contributes data to scientists such as Vanessa Pirrotti, and shares information with the local life guards. He plans to develop the DroneShark platforms in order to connect with young people in different ways.
'Together with my 800, 000 followers we've watched Great White Sharks enter Bondi waters; watched whales and dolphins swim with people, bait balls morph into heart shapes. We've seen random creatures such as a leatherback turtle, Sunny the sunfish and a leopard shark cruise by, and when we are lucky, all the gang on the screen together co-existing and dancing in the ocean.' Jason Iggleden
City East Prize awarded to Miriam Lieberman for Love Letters to the Ocean.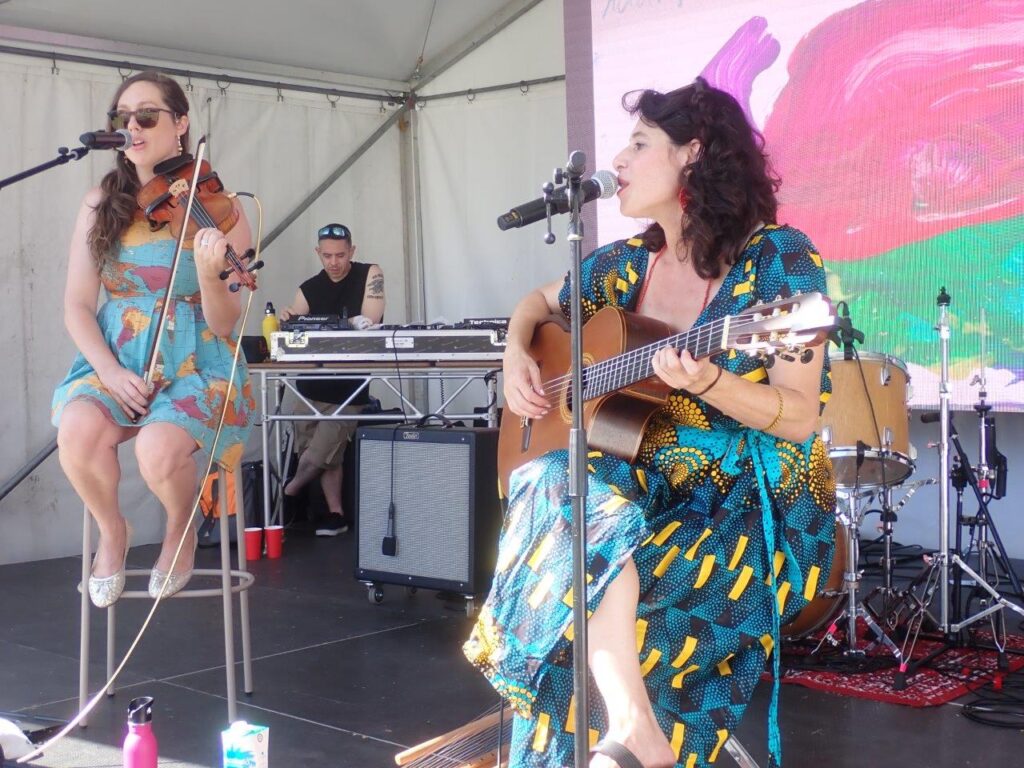 Miriam is an award-winning musician who is developing an ocean literacy project that fostered a sense of personal connection, love, wonder and protection of the ocean in young children. This project included workshops in selected local early childhood education centres and primary schools and culminated in a performance and display of the students' artwork at The Volvo Ocean Lovers Festival in March 2023.
'Engaging and empowering the younger generation to treat our oceans with respect and care has never been so vital.' Miriam Lieberman, July 2022
City East Prize awarded to Joseph DiBattista of the Australian Museum
The project will use the power of DNA and citizen scientists, and work to restore habitat for our beloved White's Seahorse in southern Sydney Harbour. The prize will be used to to build 'seahorse hotels' – small sanctuaries, where the sea horses can thrive in the wild.
'Valerie Taylor is an inspiration in the marine conservation space and so I am honoured to be a recipient of this prize. I have hit the ground running as I started the monthly seawater sampling to detect the shed DNA of all the critters that live at two of our study sites in southern Sydney Harbour today!'
Joseph Di Battista, 18 August 2022
Valerie Taylor Prize for the Volvo Ocean Lovers Litterarty School Waste Art Competition
Blue World is also proud to sponsor the Volvo Ocean Lovers Festival Litterarty School Waste Art Competition. Prizes were awarded for artworks/projects that have involved the students in ocean literacy concepts. It is hoped the prize money will catalyze school projects with an ocean literacy or sustainability focus.
2023 Litterarty Judging Notes
'The students from the youngest, have sophisticated understanding of the ocean issues. Their work is fierce, angry, full of hope and sometimes dark humour. There is a range of work from individuals and some incredible collective works too. What was very exciting was how Litterarty has sparked exciting new ocean conservation, recycling and sustainability projects in many schools.
So congratulations to every school and every student. Special note to our regional schools, such as Timbumburi, Tomerong, Queenbeyan South Public School, who made an effort to enter work.
More information about the Litterarty School Waste Competition
Blue World at the 2022 Ocean Lovers Festival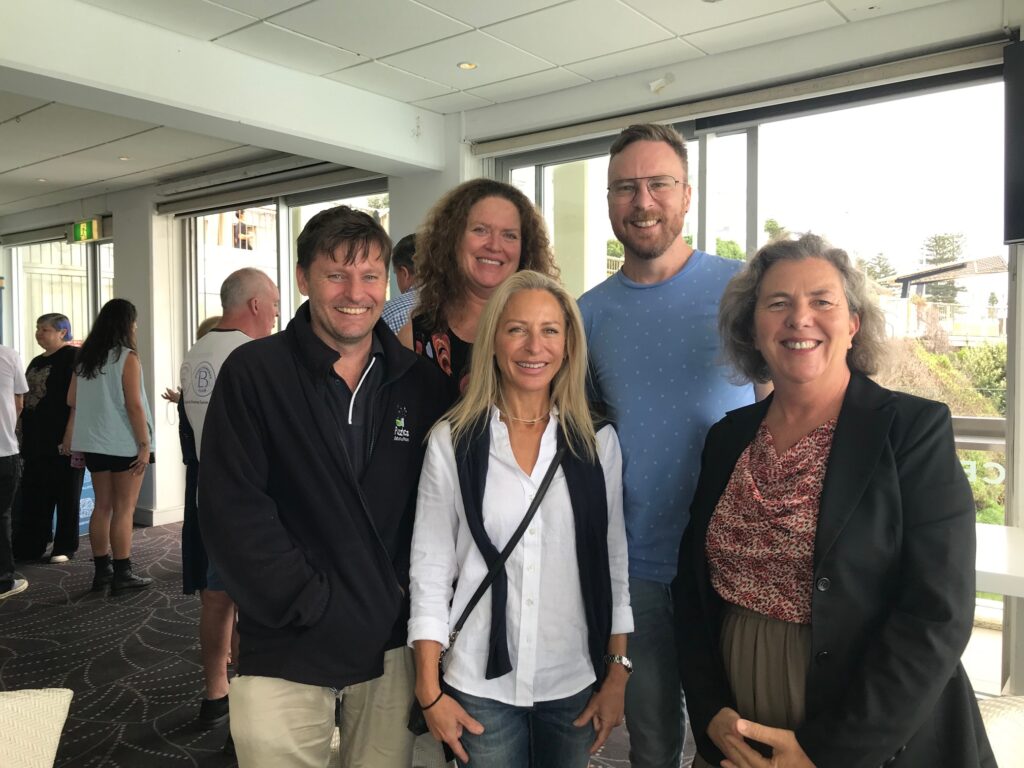 Litterarty Waste Art exhibition opening speech- 2022 Volvo Ocean Lovers Festival.
I'd like to acknowledge the Bidjigal and Gadigal people who are the traditional custodians of this very beautiful coastline; AND acknowledge the deep connection Aboriginal people have to country.

Thanks so much to the Ocean Lovers Festival for inviting me to speak and many thanks to the surf club and the Bondi Icebergs for hosting us.

I'm here to represent Blue World, which is a local Bondi organisation dedicated to ocean protection and ocean literacy. We've been inspired by the work of Valerie Taylor; who is a ground-breaking ocean conservationist and oceanographer.

With Valerie's support, I'm proud to say we recently launched the inaugural Valerie Taylor Ocean Protection Prize; This annual prize will run throughout the United Nations Decade of Ocean Science, and hopefully beyond. So it looks like we'll be working with the ocean lovers for many years to come!

As we all know, our coastal environments are under serious pressure. With this prize- we hope to inspire some ambitious and imaginative projects that will make a positive impact on our ocean's health at a local level.

So please spread the word that entries are now open!

There is a $10,000 prize for a project based in Sydney

And a $5000 prize for a project based within Waverley, Woollahra and Randwick. If any one wants more information please come and say hello!

Blue World is also thrilled to sponsor the Ocean Lovers' Litterarty Waste- Art competition for school students. And I have been absolutely honoured to be one of the judges this year, with Marina DeBris. In the judging we considered the artistic values of the work, the concepts and ocean literacy ideas. It quickly became clear that these students are deep thinkers!

An amazing array of artwork has been created! From giant jelly fish through to wearable art and mermaids tails. All of it made from beach rubbish and waste. I hope you visit the exhibition down at the surf club over the festival weekend

The students have used beauty and humour in their work that draws attention to- the detrimental effects of our single-use products on the ocean. And importantly their work also highlights their curiosity, their love and their commitment to our marine life and ocean.

I find it inspiring that our students can take responsibility and advocate for the ocean so easily. So, I say, lets fall in behind the kids! Let's follow good leadership where we find it, and all use our talents to reverse the cycle of decline in ocean health. In partnership, I hope we can work to keep the blue in our blue world.

Thanks every one and looking forward to the Ocean Lovers Lap tomorrow!
Merran Hughes- Bondi artist and prize organiser 22/4/2022