Mission Statement
Our well-being and fates are bound to the ocean.
Our mission is to catalyse positive change for a clean and thriving ocean. We aim to inspire wonder, to celebrate and build public support for the finite and fragile systems of ocean life. We hope to restore, protect and build custodianship for the ocean by catalysing creative, cultural, scientific, business, education and community action.
Our vision is to create a world that values and cares for the living thriving ocean, both for itself, for our needs, and for the healthy future of our planet.
For the love of the big blue
The idea for Blue World developed among friends, in December 2021. The Covid lockdowns had sent us onto the beach and into Sydney's coastal waters more than usual. We've roamed Bondi Bay, becoming familiar with the giant rays, wobbegongs and other creatures and marine plants. We were blown away by the diversity of the marine life in Australia's largest city. It's wonderful to see the life and the beauty; but we also noticed the pollution in the water, the decline in rock pool and marine species, and the dirty run off. We want some better outcomes in the blue backyard.
Why support the ocean?
The United Nations have declared it a critical time for our ocean. Ocean life is facing existential threats that in turn, threatens our own lives and culture. The ocean covers 70% of our blue world. Less than 3% has strong marine protections. This is even the case in NSW.
"The ocean regulates the climate. The ocean provides food, livelihoods, recreation, and connections to nature. It is the reason we have life. The ocean holds the key to solving so many global problems that the UN has declared it the Decade of Ocean Science for Sustainable Development." https://www.oceandecade.org/
This ocean decade is for everyone. Anyone can participate. That means us. That means you. We hope we can facilitate positive action to create the oceans we want.
2022 Blue World Outcomes
Valerie Taylor became our patron and our inspiration. We organised the inaugural Valerie Taylor Ocean Protection Prizes, focusing on ocean conservation and ocean literacy.
We partnered with the Ocean Lovers' Festival and supported their Litterarty prize. We also organised our first science communication program, with Inspiring NSW and UNSW; and supported the Save Our Sanctuaries action at Parsley Bay in November 2022; which drew attention to the need for marine sanctuaries in NSW.
2023
We are expanding our prizes and developing new ways to raise awareness and support for our ocean using creativity.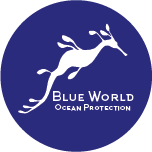 We acknowledge the traditional custodians of the waters and land where we live, work, learn, swim and draw inspiration. We pay our respects to elders past, present and future. We undertake to care for the coast and waters.