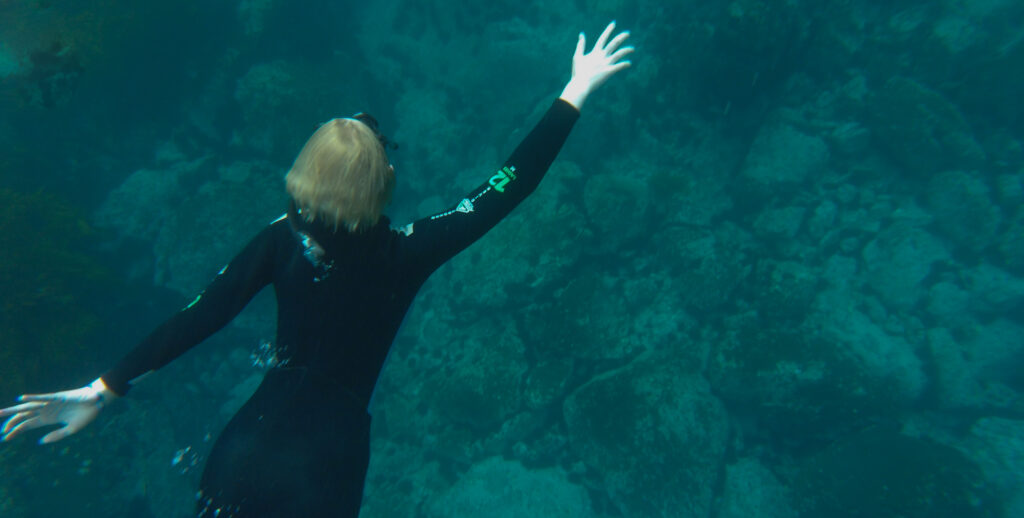 Blue World is dedicated to catalysing ocean protection and building support for our ocean by utilising science, culture and creativity, community and business action. This inaugural ocean protection prize has been established to honour the achievements of ground-breaking conservationist and marine advocate, Valerie Taylor, throughout the UN Decade of Ocean Science for Sustainable Development.
For the love of the big blue
The idea for this project developed among friends, out of love for our local piece of coast, Bondi Beach. There are many kinds of marine life in the bay from tiny fish, molluscs and seaweeds through to rays and wobbegongs. It's wonderful to see the life and the beauty; but we also have been noticing the increasing pollution in the water and the decline in rock pool and marine species. We wanted some better outcomes in the blue backyard, close to shore and out in the deep.
We've developed this marine protection prize with the blessings and mentoring of marine conservationist, Valerie Taylor, who has been our inspiration. We hope our communities will be inspired to step up and contribute their time and talent. Get in touch if your values align.
Blue World Board Members and Brains Trust
Merran Hughes, Rob Keldoulis and Jock McKenzie
Artist in Residence
Merran Hughes is the artist in residence and co-founder of Blue World. Our first art project was held during Science Week 2022, at Waverley Library.
Thank you!
Volvo Ocean Lovers' Festival who have welcomed our interest in their festival and philosophy.
Inspiring Australia NSW for their practical support and ideas for our project
Valerie Taylor for her thoughts and interest and ongoing advocacy for all marine species, especially the shark.
UNAA New South Wales for their assistance
More Inspiration
Playing with Sharks is a 2021 documentary film directed by Sally Aitken, which portrays Valerie Taylor as a brave diver, filmmaker and conservationist. This film can be streamed on Disney Plus.
Mission Blue inspires action to explore and protect the ocean.
UN Decade of Ocean Science for Sustainable Development (2021-2030) supports efforts to reverse the cycle of decline in ocean health and gather ocean stakeholders worldwide behind a common framework that will ensure ocean science can fully support countries in creating improved conditions for sustainable development of the Ocean.
We wish to acknowledge the Bidjigal and Gadigal people who traditionally occupied the Sydney coast. We acknowledge all elders past and present and extend this respect to all Aboriginal people living, working or visiting or swimming in Bondi.